1. Choose a commodity coding system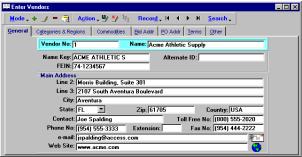 2. Enter and classify your vendors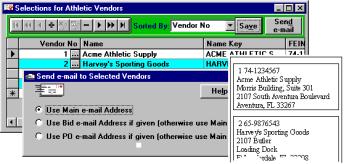 3. Select, print labels, send email.......
Ø Automatically generate and save bidder lists and print labels by commodity/service code, vendor category (e.g. MBE/WBE), and/or region.
Ø On-line status inquiry eliminates the need for time-consuming manual file searches.
Ø Increase competition and realize lower prices by using a broad-based automated vendor file.
Ø Use any one of several major Commodities and Services Classification Systems (UNSPSC, NAICS, SIC, FSC, or NIGP) to standardize your commodity classifications, or create your own unique coding system with up to eight coding levels.
Ø Integrated email provides an Internet address book for vendor communications.
Ø One-click Internet access to vendor web sites for quick and easy price comparisons.