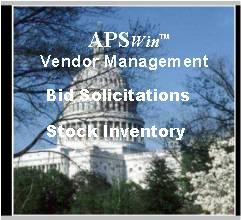 Vendor Management for automating the bid list process. Uses any one of the major commodity and service coding systems (UNSPSC, NAICS, SIC, FSC, NIGP, etc.)

Bid Solicitation Management for preparing bid invitations, RFQs, etc. Includes bidder response features to keep up with who's bidding and who's not.

Stock Inventory Management for controlling the inventory cycle from vendor to warehouse/stores to requisitioning departments.